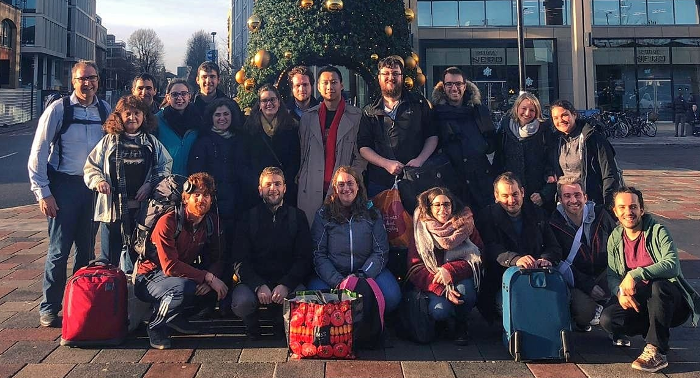 Current Members
Hadia was born in Damascus, Syria moving to Aleppo (her home city) and undertaking her undergraduate study in the college of pharmacy, Aleppo University. She was selected for a Franco-Syrian fellowship programme to pursue her higher education in France. She obtained her Master's and PhD degrees in Medicinal Chemistry in 2010 from the Faculty of Pharmacy, University of Paris XI, her research focused on the synthesis of new analogues of betulinic acid as anti-cancer agents. She then undertook postdoctoral training in the Chemistry of Natural Substances Institute (ICSN) in Gif-sur-Yvette, France. She then returned to Syria to begin her academic career and teach in the Faculty of Pharmacy at Aleppo University. Due to the war in Syria she was forced to move to Egypt in 2013, where she worked for two years at the faculty of pharmacy, Egyptian University as an Assistant Professor, before being awarded a fellowship at the University of Oxford in 2015, to enable her to pursue her scientific research and her academic career. She added new skills and experiences to her research path by working in pharmaceutical industry in several contract research companies in the UK (Cambridge and Cardiff), then she joined the drug discovery community in Life Sciences as a Research Fellow specialising in automated high throughput synthesis in the lab of Prof. Brian Cox. She did her research in the development of new drugs for the treatment of Chagas Disease in collaboration with the University of Geneva and The Drugs for Neglected Disease Initiative (DNDI) in Geneva. She likes attending social events, poems writing, painting, listening to music and walking.
Ana was born in Madrid, where she studied her BSc in Chemistry specialising in Organic Chemistry at the University Complutense. She obtained her PhD from The City University (London) under the supervision of Professor Stephen Matlin, developing HPLC methodologies to analyse male and female contraceptives and to isolate the contraceptive active ingredients for in-vivo animal studies. She has worked in management positions in the analytical sections of the Research and Development departments in the pharmaceutical industry in the UK. She moved in 2002 to the Department of Chemistry at the University of Cambridge joining the group of Professor Jeremy Sanders where she is still working. She is the HPLC and LCMS expert for the Hunter group. When not in the lab, Ana likes walking, science, natural history, listening to classical music and visiting museums.

Peter Bolgar

I grew up in a small town in North-Eastern Hungary. I became interested in chemistry at my very first chemistry lesson at secondary school, when my teacher showed us some spectacular experiments. I have participated in the International Chemistry Olympiad and the Mendeleev International Olympiad in Chemistry in 2012 and 2013. I moved to England to study natural sciences at St Catharine's College, University of Cambridge, where I stayed to carry out my PhD studies. I did an internship with Prof. Brian Stoltz at Caltech, where I was working on the development of a simple system for the oxidation of electron-rich diazo compounds to ketones. I am involved with the UK Chemistry Olympiad and the International Chemistry Olympiad. In my free time I often read about astronomy and meteorology. I enjoy nature and I am very fond of trekking, cycling and skiing.

Mr Tim Chisholm

I was born and raised in Dunedin, New Zealand, before defecting to Australia and undertaking my undergrad at the University of Sydney. I completed my honours and MSc under Professor Richard Payne developing methodology for chemical protein synthesis, before shifting field and hemisphere to the Hunter group. Here I'm working on developing high affinity binders for protein aggregates, as well as new synthetic molecular transducers. In my spare time I enjoy cooking, reading, hiking, karate, and drawing.

Mr Mohit Dhiman

Mohit was born in London before moving to Kent where he grew up. He graduated with an MSci Natural Sciences degree from the University of Cambridge in 2019, receiving an examiners prize. During his undergraduate studies, an internship at AkzoNobel gave him the opportunity to investigate quantitative NMR spectroscopy in the context of novel paint formulations. His final year project was under the supervision of Prof. Chris Hunter and he is now continuing in the Hunter group to complete his PhD. He is working on the design of synthetic information oligomers using solid-phase synthesis. Outside of the lab Mohit is actively involved with the Emmanuel College MCR committee and can often be found playing various sports, practising piano or watching England play test cricket.

Fergal Hanna

I was born in Huntingdon to Irish parents, but have lived most of my life in Hadfield, near Manchester, a town famous for The League of Gentleman and FluoroChem. I graduated with an MSci from Cambridge in 2020, having done my final year undergraduate project in the Hunter Lab. In the summer of 2019 whilst an undergrad I interned at AstraZeneca working on NMR conformational analysis. I am working on probing the polarisation effects of and on hydrogen bonding systems for my PhD, as well as challenging Giulia's position as lab DJ. In my spare time I like to play Gaelic football, soccer, and cricket, as well as watching sport, reading, and cooking.
I was born in Dunedin in New Zealand and lived in Nigeria before my parents settled in Ireland at the seaside town of Portstewart. After a PhD in supramolecular porphyrin chemistry with Jeremy Sanders at the University of Cambridge, I started my independent academic career at the University of Otago in New Zealand in 1989. I moved to the University of Sheffield in 1991, and 23 years later, I returned to the University of Cambridge. I like spending time with my family, cooking for friends, and when I get the chance I surf.
Dr Giulia Iadevaia gained her MSc in Chemistry from the Sapienza University of Rome in 2010 after doing her final year project on anion recognition. She got her PhD from the University of Sheffield in 2014 working on cooperative hydrogen bonded systems. After two years of postdoctoral research in the Hunter group, she was appointed as Research Laboratory Manager in the same group. She is responsible for the smooth running of the laboratory and its equipment. Giulia is expert in high performance liquid chromatography (HPLC) and liquid-chromatography-mass spectrometry (LC-MS) and supports the research team in their analysis needs. Her research focuses on the study of supramolecular systems, more specifically on the synthesis and analysis of abiotic analogues of information molecules like DNA. She is passionate about organic chemistry, in particular physical organic chemistry and supramolecular chemistry. During her time in Cambridge Giulia has been supervising a number of organic chemistry courses and she joined Churchill college as a Teaching By-Fellow in 2021. In her spare time she loves cooking, reading and taking long walks with her husband and her Whippet Lillo.

Dr M Cristina Misuraca

Cristina was born in Cosenza, a small city in the south of Italy, where she studied Pharmaceutical Chemistry & Technology. After obtaining her Masters degree she moved to the UK where she gained her PhD from the University of Sheffield under the supervision of Prof C. A. Hunter studying cooperativity in supramolecular systems. She spent 2 years in the group of Prof N. Giuseppone (CNRS, Strasbourg) where she focused on dynamic combinatorial chemistry applied to material science. She then returned to the Hunter group to investigate solvent effects on H-bonding. In her spare time she likes hiking and playing piano.
Diego was born and grew up in Álora, a small village of Málaga in the south of Spain. After obtaining a BSc in Chemistry from the University of Málaga he moved to the Institute of Medicinal Chemistry in Madrid where he got his PhD in 2013 working on the stereoselective synthesis and applications of quaternary amino acids. He joined the Hunter group in 2013 to develop chiral information molecules. In his spare time he enjoys reading, playing football and travelling.

Prof Jeremy Sanders

Jeremy Sanders was born in London, and studied Chemistry at Imperial College. He did his PhD in Cambridge with Dudley Williams, and after a postdoctoral year at Stanford he was appointed to the academic staff in Cambridge. His research interests have included the use of NMR spectroscopy to solve chemical and biological problems, and many facets of supramolecular chemistry. He is currently a Pro-Vice-Chancellor as well as Professor; in his spare time he harvests fruit and vegetables from his garden, does the family cooking, and enjoys opera, theatre, cinema and walking on the South Downs.

Joseph Smith

I was born in Tunbridge Wells, Kent, where I grew up before coming to Cambridge to study Natural Sciences. During my undergraduate degree, I did my Masters project in the Hunter group, working on synthetic information molecules. I've stayed in the group for my PhD, continuing to study information transfer between synthetic oligomers. Outside of the lab I enjoy walking, baking, and following the cricket.

Maria Chiara Storer

I was born in Torino (Italy). I am Southern Italian from my mother's side and Northern English from my father's. I remember visiting a biology lab when I was 7 and being fascinated by the idea of understanding what couldn't be seen with the naked eye. Various years later, I am now doing a computational PhD in the Hunter Group, focusing on developing a novel scoring function for protein-ligand docking. Before this, I studied Natural Sciences at Newnham College, University of Cambridge. I did a summer internship with Prof. Angelo Cacciuto at Columbia University (NY), analysing simulations of active Janus particles. I also taught for two months at the European high school 'A. Spinelli' (Torino), giving Science lessons in English. I enjoy cooking, travelling, reading and playing the classical guitar.

Gloria Tobajas

Born and raised in Madrid, Gloria graduated with a Pharmacy degree from the Complutense University of Madrid, followed by an MSc in Drug Discovery. As part of her studies she worked on natural products chemistry at the Institute of Medicinal Chemistry in Madrid and also gained some experience in solid phase peptide synthesis at the University of East Anglia (Norwich) and on nucleic acids chemistry at the Institute of Organic Chemistry and Biochemistry in Prague. Prior to the beginning of her PhD, she took up a position in Janssen Pharma at the Medicinal Chemistry Department. She joined the Hunter group in October 2018 to focus on the development of new chemical probes to investigate misfolded proteins in human diseases. When not mixing reagents in the lab, you'll find her practicing water sports, playing the guitar or finding decent music and eating places around town.

Lucia Trevisan

Lucia was born and grew up in Venezia Mestre, in the north east of Italy. She studied Chemistry at the University of Padova and worked in Prof. Mancin research group for both her bachelor and master's degrees projects. She focused on the development of functionalised gold nanoparticles as NMR chemosensors. During her Masters' thesis she spent four months working on boronic acid and ester functionalised gold nanoparticles in Dr. Kay's group at the University of St Andrews. In 2018 she joined the Hunter group for her PhD during which she will be working on the development of new synthetic molecular transducers. In her free time she enjoys reading, hiking, rowing and kitesurfing.

Kate Zator

Kate was born and grew up in South-Western Poland and has been interested in science for as long as she can remember. Having attended Leweston School on a United World Colleges scholarship, she read Natural Sciences in St. Catharine's College, Cambridge. She obtained her MSci in 2020 working in the Hunter Group on the use of SSIPs in protein-ligand complexes, and now she's continuing the work in her PhD as part of SynTech CDT's 2020 cohort. When not working, Kate enjoys baking, cricket, reading books, and travelling.